Back
Our Rothesay – a favourite spot
One of our first customers talks about his garden bench
Rothesay
The classic teak bench celebrated its premiere at Garpa in 1979. From that moment on it became a permanent part of our collection, accompanying us supremely unaffected through all the permutations of style and fashion. Year for year it acquires new enthusiasts who, with delightfully personal embellishments, add a further chapter to its story of success…
When I bought my first garden bench from Garpa 25 years ago, I could not have foreseen just how long it was to accompany my family and me. We had just purchased our house and had started with the renovations. We had this dream vision in our heads: my wife and I sitting together on a bench, the light of the setting sun upon our faces, enjoying a cup of freshly brewed tea and the wonderful prospect of our own home. Quite honestly, in our garden at that time there was not much opportunity for romantic moments. It was in a rather desolate state, and a huge amount of work awaited us.
However, we somehow simply couldn't wait any longer. We had to have a seat in the garden – and it had to be a Garpa bench. After a brief, and very amicable consultation on the phone, the Garpa Service team arrived with Rothesay and placed it in the spot we had chosen. What an effect that had! Suddenly we could envisage how our garden would one day look.
---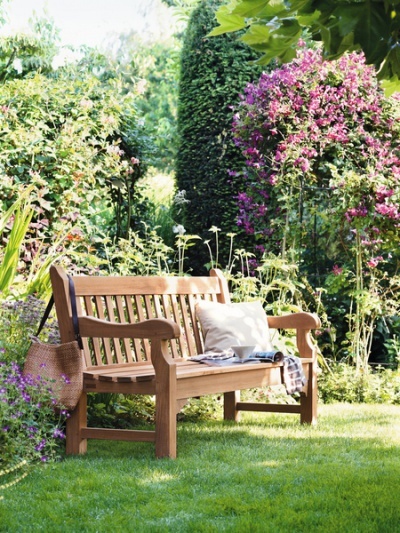 All at once, the bench made our bare paradise look marvellously furnished.
Although we had been told that with time the teak wood would become ever more beautiful, the first shower of rain proved quite unbearable. I became very agitated and wanted to immediately carry our Rothesay into the house to protect the wood. Since then, we know that it can look after itself very well indeed. The wood in its natural state withstands rain, sun, and even frost – with just a good cleaning in spring using a mild, soft soap and water. Recently – as I love to sit and run my hands over the smooth surface - I took some fine sandpaper to the armrests.
Apart from the silvery patina that covers the teak wood, you would not say that our Rothesay is 25 years old. It has, however, acquired its own individual character during the time we have shared. Long ago, the bench stood awhile by the sandpit so that the grandparents and we could sit and watch our little girls. During the slow succession of family celebrations Rothesay took up its place at the long table, and how many times did I not greet the sun's first rays with my feet in the morning dew, or enjoy a comfortable chat with my old school pal, Eric, or with a companionable neighbour.
---
And best of all, the many romantic interludes with my wife and two cups of tea.
Those were the moments we had always dreamed of, and that have in the course of time become well worn and treasured traditions.

Today our garden flourishes. The Rothesay bench still stands in its designated place, the sun shines on our faces when we recline there, and peace and quiet descend. So will it be for many years to come.
---